Telehealth during a Pandemic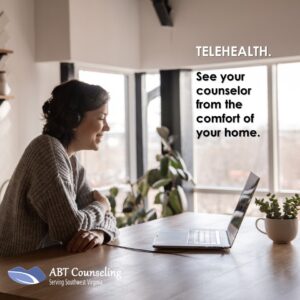 Let's say you need to see your therapist. But you also take care of an elderly parent and you're very concerned about their physical health. Protecting them as well as taking care of your mental healthcare can be complicated.
Thanks to Telehealth from ABT Counseling, seeing your therapist just got a whole lot simpler. Once you schedule an appointment, you merely connect with your counselor via the green PATIENT PORTAL button on the ABT Counseling home page.
It's that simple. And, you can connect via your phone, tablet or desktop. From the comfort of your home. Or from anywhere in Virginia.
ABT Counselor Scott Cundiff is a real fan of Telehealth. Here's what he has to say:
"It's been seamless." That's encouraging, isn't it?  Especially if you are a little anxious about too many trips out in public. 
Telehealth is one more reason to like your friends at ABT Counseling.
For more info about Telehealth or to schedule an appointment – in person or via Telehealth – click here.