ABT Counselor and Therapist Profiles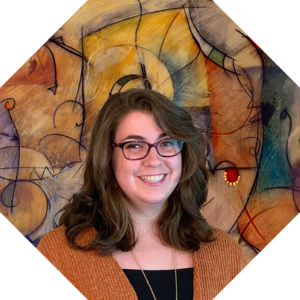 Issues:
Abuse (physical, sexual, financial, verbal, emotional, etc.)
ADD/ADHD & Behavioral issues
Adoption
Anxiety
Autism Spectrum
Borderline Personality Disorder
Career Counseling
Codependency
Depression
Emotional disturbance
Family Issues
Grief / Loss / Bereavement
Identity (ethnic / racial, gender, sexual, etc.)
Life Transitions
Mood Disorders
Parenting issues
Relationship Issues
School issues (bullying, poor behavior or grades, text anxiety, etc.)
Self-esteem Issues
Spirituality
Stress
Suicidal tendencies or thoughts
Trauma & PTSD
Weight concerns
Women's issues
Maria Williams is a Resident in Counseling and working towards her license to become a registered Art Therapist as well as a Licensed Professional Counselor. Maria attended George Mason University (Fairfax, VA)  for undergraduate studies and received her Bachelor's of Arts in Psychology and minored in Art and Visual Technology. Maria attended Lesley University (Cambridge, MA) for her graduate degree and received her Master's in Clinical Mental Health Counseling, specializing in Art Therapy. Maria has experience working with children, adolescents and adults in different settings such as psychiatric inpatient hospitalizations, crisis work, community mental health skill building, vocational counseling, group work, and grief focused therapeutic groups. 
In addition to talk therapy, Maria offers a space to utilize art materials occasionally or as a central focus during sessions. Art Therapy requires no skill or special knowledge of art. It adds an additional layer to the therapeutic relationship and experience. In life we come to experience things that cannot be described with words. Using the art creates a new non-threatening language between the therapist and client to explore and process these experiences, feelings and emotions. Art is very personal and using it in therapy can lead to unexpected insights, stress relief, and increased self-compassion.  
Maria believes in meeting people where they are at and building upon their strengths. People come to counseling for a variety of reasons and it is her goal to help you navigate this journey with nonjudgement, guidance and encouragement. Maria encourages people and helps people realize their strengths and help build on them to help them get to where they want to be.
To schedule an appointment with Maria:
Ages of Patients:
Teens (13-17 years)
Adults (18-64 years)
Modality:
Individuals
Families
Groups
Faith-Orientation:
Christian
Treatment Modalities:
Acceptance & Commitment
Art Therapy
Attachment-based
Cognitive Behavioral
Compassion focused
Crisis Intervention
Culturally Sensitive / Multicultural
Eclectic
Experiential Therapy
Family counseling
Narrative
Person-centered
Play Therapy
Positive Psychology
Psychoanalytical
Psychodynamic
Sand play
Strength-based
Trauma focused / trauma informed
Expressive Arts