Meet Laurel Martin, LPC, LMFT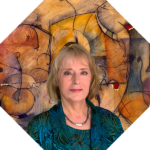 Laurel Martin has over 25 years of experience as a  Licensed Professional Counselor and Licensed Marriage and Family Therapist.  She received her Master's degree at James Madison University and completed Post Graduate work at James Madison University and Radford University.
She says, "being part of the change process of seeing people come in at a low point and being with them through the process of getting to a much place is the most meaningful and thrilling thing for me."
Laurel has a warm, down to earth style that focuses not only on the presenting concern but also builds on the individual, couple, or family's strengths.  She specializes in grief and loss, trauma, depression, and anxiety.

Her work gives a feeling of acceptance and hope for her patients.  She uses proven, treatment approaches designed to bring about effective, lasting changes in the shortest amount of time possible.
For more info about Laurel or to schedule an appointment, click here.