Meet Vinnie Dabney, MS, Resident Counselor
ABT's Vinnie Dabney has a unique perspective as a therapist. He is a recovering addict.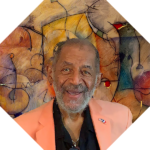 Vinnie specializes in working with patients with the following: Borderline Personality disorder, trauma, substance abuse, self-harm and low self-esteem, as well as patients with relationship issues.
Vinnie has worked as a coordinator in Drug Court and has coordinated and facilitated an Office-Based Opioid Treatment program and serves on numerous boards related to Substance Use Disorder. He has an amazing story and is in recovery himself, clean for 21 years! He was featured in the book about the opioid crisis in Appalachia, Dope Sick:  Dealers, Doctors, and the Drug Company That Addicted America by Roanoke author Beth Macy.
For more information about Vinnie, or to schedule an appointment, click here