Sometimes you just need someone to walk with you on the journey.
Let's face it. Life is a journey that can be full of struggles and stress. And today's challenges seem to be intensified in a COVID-19 world. Financial hardships. Summer vacation didn't happen this year. Sports? Church? What? When? Daily rhythms of life have been up-ended.  "Are the kids in school or at home school today?"  "I forgot my mask!" "This computer is taking forever." Anxiety is the norm it seems.
ABT Counselor Margaret Adams says it is a real joy to come alongside her patients and learn from them, especially today. She meets with people of all ages in a variety of situations, giving them tools to manage daily stress.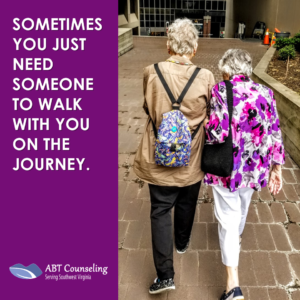 "I see the impact that counseling can have on people first-hand," said Adams, "whatever journey they're on, whether it's because of chronic pain, life transition, stress, trauma, family dynamics, or walking through the challenges we all face in life. That's a real joy for me."
Adams says she enjoys a person-centered approach in working with patients, instilling dignity, value, and worth in each individual. She sees successful outcomes regularly.
If you'd like more information about Margaret, or to schedule an appointment click here.